Cornflowers, also known as Bachelor's Buttons, are delicate flowers that have been cherished for their beauty and symbolism for centuries. With their vibrant blue color and elegant petals, cornflowers have become a popular choice for gardens, weddings, and special occasions. But beyond their aesthetic appeal, these flowers hold deep meaning and symbolism that is worth exploring. In this blog post, we'll delve into the world of cornflower meaning and symbolism, and uncover the fascinating stories and legends behind this enchanting flower.
Cornflower Meaning : In the language of flowers, the Cornflower is a symbol of fidelity, depth, reliability, anticipation, fertility, hope, magic, and benevolence. Its striking blue color has also made it a popular symbol of true love and passion in many cultures, especially in European folklore.
Some civilizations think the blue Cornflower has mystical qualities that may help people discover love. European mythology says individuals look for a life companion who would passionately adore them like the blue Cornflower.
Cornflowers symbolize more than romance. It has been connected with faithfulness and depth, emphasizing commitment and honesty in partnerships.
*As an Amazon Associate we earn from qualifying purchases.



The Cornflower is also a sign of dependability and expectation, expressing hope and optimism for the future.
Ultimately, the Cornflower brings luck and fertility to its owners.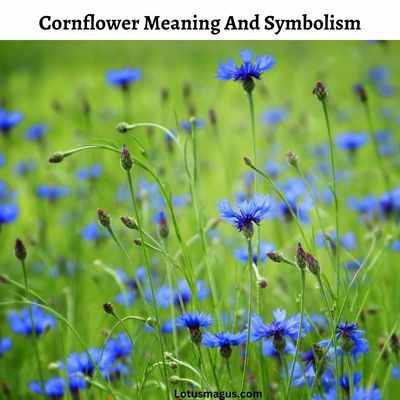 | Specification | Description |
| --- | --- |
| Scientific Name | Centaurea cyanus |
| Common Name | Cornflower, Bachelor's Button |
| Plant Type | Annual plant |
| Height | 16-35 inches |
| Stem Color | Gray-green |
| Leaf Shape | Lance-shaped |
| Leaf Size | 1 inch long |
| Flower Shape | Radially symmetrical |
| Flower Size | 6.5-10 cm in width |
| Flower Color | Blue |
| Blooming Season | Summer |
| Uses | Ornamental plant, herbal medicine |
| Symbolism | Fidelity, depth, reliability, anticipation, fertility, hope, magic, benevolence |
| Folklore | Used as a love charm, believed to ward off evil spirits, and protect against witchcraft. |
| National Flower | Estonia |
| Other Names | Bluebottle, Hurtsickle, Blue Cap, and Corn Blue |
What is Cornflower?
Cornflower (Centaurea cyanus), often known as bachelor's button, is an annual herbaceous Asteraceae plant. This vast family of plants includes sunflowers, daisies, and asters.
Cornflower is a therapeutic plant. Tea made from dried flowers has anti-inflammatory and antioxidant effects. Eye infections are treated with the tea because it reduces inflammation and discomfort.
Cornflowers are known for their bright blue hue. Several rings of ray florets surround a center cluster of disc florets in each flower head. Flower heads range from 1cm to 3cm in length and are usually blue, although they may also be pink, white, or purple.
Cornflower was once a weed in cornfields. It's currently produced as an ornamental flower and used in floral arrangements. For their startling blue hue and aesthetic appeal, the beautiful blossoms are mainly planted in gardens.
Cornflower is a fascinating plant with many applications and a long history. Its beauty and medicinal powers make it a great addition to any garden or herbal medicine cabinet.
Cornflower history
Cornflower (Centaurea cyanus) has a varied history spanning various ancient cultures. Chiron, a Greek centaur, was claimed to have taught mankind about plants. Cornflowers may have helped Achilles recover from a poisoned arrow wound.
Ancient Egyptian society relied on cornflowers. The Stone and Bronze Ages saw cornflower reproductions. Ancient Egyptians utilized the herb medicinally.
Cornflowers are increasingly grown as garden plants in North America. The plant's adaptability and persistence have led to its invasiveness in certain regions beyond its natural habitat.
France honors World War I soldiers with cornflowers. Like poppies in the UK and Canada, the flower's blue hue symbolizes the French flag and the 1918 Armistice.
Cornflower meaning and symbolism
In the language of flowers, the Cornflower has long been associated with various meanings, including fidelity, depth, reliability, anticipation, fertility, hope, magic, and benevolence. Its striking blue color has also made it a popular symbol of true love and passion in many cultures, especially in European folklore.
Cornflowers, commonly known as Bachelor's Buttons, are attractive annual plants with many symbolic significance. Understanding Cornflower meanings might enhance your admiration for this beautiful flower.
Fidelity: Loyalty and fidelity in romantic and other relationships. Cornflowers indicate steadfastness in keeping vows, no matter what.
Depth: Digging deeper into meaning and relationships. Cornflowers represent the significance of discovering life's purpose.
Reliability: Being reliable means always being there when required. Cornflowers indicate being a rock in others' life.
Anticipation: The thrill and hopefulness we experience while anticipating something excellent. Cornflowers represent the delight of expecting life's blessings.
Fertility: Plenty, growth, and beginnings. Cornflowers signify life's constant renewal and new possibilities.
Hope: Despite our problems, we may always hope for better. Cornflowers represent hope's ability to help us weather life's storms and emerge stronger.
Magic: The magical and unknown, things we don't completely grasp yet are enchanting. Cornflowers represent the world's unexplored magic.
Benevolence: Kindness, charity, and goodwill to others. Cornflowers represent the capacity of love and compassion to improve the world.
Finally, cornflowers are beautiful and profound flowers that may educate us about life and the planet. Cornflowers are loved worldwide for their associations with faithfulness, profundity, trustworthiness, anticipation, fertility, hope, enchantment, and compassion.
Cornflower in popular culture
Centaurea cyanus cornflowers have been loved for millennia. Artists, poets, and storytellers love their blue hue and delicate petals.
Cornflowers symbolize affection, loyalty, and remembering in literature. Ophelia's famous phrase from Hamlet, "There's rosemary, that's for remembering; pray, love, remember: and there is pansies, that's for thinking," mentions cornflowers. This phrase emphasizes the cornflower's connection to memory.
Many songs mention the cornflower. Scottish folk ballad "Cornflower" highlights the flower's beauty and position in nature. "Cornflower, cornflower, with your petals blue; Daisies in the meadow look up to you," the hymn says. The song emphasizes the flower's natural beauty and cultural value.
Painters and illustrators love cornflowers. Van Gogh's "Wheatfield with Cornflowers" uses the flower's brilliant blue hue. The blue cornflowers and golden wheat in the field contrast well, highlighting the flower's beauty and value.
In popular culture, the cornflower symbolizes national pride. "Estonian blue" cornflowers symbolize Estonia's independence fight. In Ukraine, the cornflower symbolizes national pride.
Cornflower physical appearance
Bachelor's Button, or cornflower grows 30–90 cm (1–3 ft) tall with slender gray-green leaves alternately placed on the stalk. Thistle-like foliage with hundreds of tiny silvery hairs has a hairy feel. Cornflower leaves are tall and oval, not serrated like thistles.
Papery flower heads with bracts attract butterflies. The flower heads feature 2–5-centimeter-wide blue, pink, or white ray florets. Ray flowers are tall, spreading blossoms.
Cornflower foliage's white mid-rib distinguishes it. The strong, gray-green shrub is popular for gardens and attractive arrangements.
Cornflowers are culturally and historically significant. Ancient healers utilized it. Popular culture has utilized cornflowers to honor war soldiers in France and the UK.
Cornflower habitat
Cornflower, also known as Centaurea cyanus, grows in many settings. This winter cereal field border herbaceous plant is arable. It is native to Europe and Asia but naturalized everywhere.
Roadside and hedgerow cornflower loves light, sandy soil. It grows in sun or shade. It grows on disturbed soil in fields, coastlines, gardens, and wasteland.
Cornflower grows naturally in grain, rye, and fallow fields. It can survive in many soils and temperatures. Its capacity to grow on disturbed soil and adapt to different circumstances has made it invasive in certain areas.
Cornflower grows in many environments. It grows in winter cereal fields, hedgerows, roadsides, and other places. Gardeners and farmers admire its flexibility and versatility.
Cornflower care and maintenance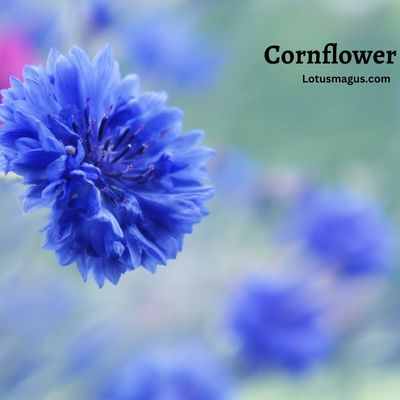 Cornflowers are easy-to-grow annual flowers that brighten any garden. These flowers may bloom all season with appropriate care. Cornflower maintenance:
Cornflowers like well-drained, organic soil. Growth is best at pH 6.0–7.5. Before planting, loosen the soil to 8-10 inches and add compost or well-rotted manure to promote soil structure and fertility.
Sunlight: Cornflowers need 6-8 hours of full sun daily. Plant them in a sunny, wind-protected spot.
Cornflowers demand moderate irrigation but may endure drought if grown. Overwatering causes root rot and other problems. When the top inch of soil seems dry, water the plants thoroughly.
Fertilization: Cornflowers don't need much fertilizer, but a monthly dose of balanced (10-10-10) fertilizer may help them develop and bloom.
Cornflowers bloom longer when deadheaded. Cut the stem above the first set of leaves as the blossoms fade.
Cornflowers are pest- and disease-free, although aphids, spider mites, and powdery mildew may attack them. Regularly inspect the plants and treat any pests or diseases using pesticides or fungicides.
These basic care and maintenance techniques can help your cornflowers thrive all season long. These vibrant flowers can brighten any yard or environment.
Cornflower benefits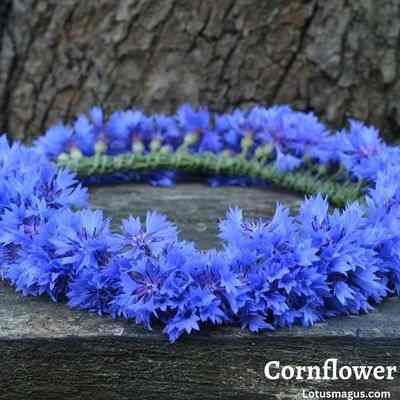 Centaurea cyanus—cornflower—has been used medicinally for ages. This herbaceous Asteraceae plant is native to Europe but now spread worldwide. Cornflower has various therapeutic uses.
One of the primary uses of cornflower is as a diuretic. It promotes renal function and water and salt elimination. It treats water retention and edema naturally. Cornflower tea is effective for this, constipation, fever, and chest congestion.
Cornflower has chemicals that boost the immune system. Bitter tonics stimulate the liver and gallbladder, helping with digestive difficulties such bloating, indigestion, and gas.
Cornflower improves the neurological system and digestion. Its relaxing effects may reduce tension, anxiety, and sadness. Cornflower tea relaxes and boosts mood.
Cornflower includes antioxidant and anti-inflammatory anthocyanins. These chemicals minimize cell oxidative damage and inflammation. Anti-inflammatory cornflower soothes weary, itchy, and swollen eyes.
Biotin, important for healthy hair and nails, is abundant in cornflower. Biotin strengthens nails, prevents nail infections, and treats dandruff.
In conclusion, cornflower offers several medical advantages. It is a mild diuretic, immunological booster, bitter tonic, anti-inflammatory, and biotin-rich. Cornflower tea makes it simple to include this plant to your daily routine and gain its numerous health benefits.
Reference:
https://www.webmd.com/vitamins/ai/ingredientmono-414/cornflower
https://www.rxlist.com/cornflower/supplements.htm
Cornflower drawbacks
Cornflower offers health advantages but also downsides. Examples:
Allergy reactions: Cornflowers may cause allergic responses in those sensitive to other Asteraceae plants as daisies or chamomile.
Cornflower may interact with diuretics, blood thinners, and hypertension medicines. Medications should be discussed with a doctor before using cornflower.
Overuse: Cornflower, like any herbal product, may cause gastrointestinal issues, headaches, and dizziness. Never exceed dosing guidelines.
Cornflower is unsafe for pregnant and nursing women due to a lack of research.
Non-cure: Cornflower's health advantages are not a replacement for medical therapy. Before using cornflower or any herbal supplement, consult your doctor.
Their invasiveness is a big negative. Cornflowers may swiftly overtake other plants if not managed. The plant may outcompete and replace native species in natural environments.
Cornflower may be poisonous. Large amounts of the plant or its seeds may induce stomach problems, vomiting, and other side effects. Cornflowers are in the Asteraceae family, thus anybody allergic to them should be careful.
Aphids, spider mites, and powdery mildew attack cornflowers. Proper plant care—water, sunshine, and soil—can avoid these concerns.
Cornflower uses
Cornflower has several medicinal and herbal applications.
Tea made from dried flowers treats fever, constipation, and water retention. Tonic cornflower may strengthen and invigorate the body.
Cornflower also aids digestion and regulates kidney function, making it useful for digestive and urinary tract ailments. Its diuretic effects wash out extra fluids and impurities, making it a useful plant for weight loss and health.
Stress, anxiety, sadness, and nervous system diseases may benefit from cornflower tea. Anthocyanins provide it anti-inflammatory and antioxidant characteristics, making it a useful plant for health.
Cornflower has medical and cosmetic applications. Cornflower biotin strengthens nails and treats nail infections and dandruff.
Cornflower is versatile and healthy. Like with any herbal supplement or medicine, cornflower should be used under medical supervision.
Cornflower interesting facts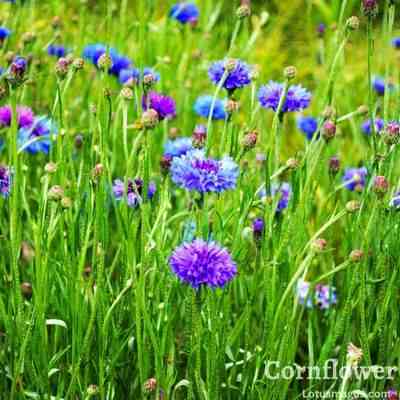 Here are some interesting facts about cornflowers:
Cornflowers were found in Egypt's Tutankhamun tomb. At 3,000 years old, these blossoms had preserved most of their bright blue hue, demonstrating the plant's durability.
Characteristics: Cornflowers are annual plants that grow 16–35 inches tall with gray-green branching branches. Spindly, lance-shaped leaves make up the foliage.
Traditional Herbal Medicine: Cornflowers have been used as anti-inflammatories for generations. Eye infections, dyspepsia, and fever were treated with this plant. Modern herbal medicine still uses cornflower.
Cornflowers' vivid blue hue is akin to chicories'. The flowerheads are big, 6.5-10 cm wide, and radially symmetrical. Several cultures associate the plant's startling blue color.
Cornflower is Estonia's national flower. The flower's bright hue symbolizes Estonian national identity, and it is widely utilized in folk costumes.
Cut Flower: Cornflowers survive 7–10 days when cut, making them ideal for floral arrangements.
Herbal Use: Cornflower has a long history of herbal usage. Modern applications include tea for headaches and menstrual cramps and cosmetics as a skin toner and anti-inflammatory.
In conclusion, cornflowers are more than attractive flowers. Their rich history, many applications, and brilliant hue continue to attract people worldwide.
Cornflower superstitions
Bachelor's Buttons, or cornflowers, have symbolized love and passion for millennia. Bachelors in love would wear a cornflower in their lapel buttonhole to see whether their love was reciprocated, according to superstition.
According to superstition, if the cornflower faded soon, their desired did not love them. If the bloom survived, it meant their love was reciprocated. Cornflowers were popular on Bastille Day, a French national celebration marking the French Revolution.
Cornflowers were considered to have mystical powers beyond love. In certain civilizations, they warded against bad spirits and witches. They symbolized luck and wealth in others.
Cornflowers are most recognized for their beautiful blue hue and traditional herbal medicine, despite its superstitions. Cornflowers have been used medicinally and as anti-inflammatories for millennia.
The myth that the cornflower's fading affects one's love life is unsupported by science. Although lack of water or sunshine may cause a flower to fade, there is no proof that it is tied to a person's love interest.
Finally, cornflowers symbolize love, passion, and superstition. Cornflowers are a sign of love and loyalty in many cultures, even though there is no scientific evidence linking their lifespan to love.
Cornflower symbolism
Cornflowers, also known as Bachelor's Buttons or Bluebottles, have been symbols for centuries. The flower symbolizes faithfulness, love, optimism, wealth, and patriotism throughout civilizations.
Cornflowers represent fidelity, loyalty, and faithfulness. These are commonly presented as gifts to show devotion and trust. The flower's blue hue symbolizes emotional depth and marital durability.
European folklore associates cornflowers with romance. To show they were looking for love, young men would put the flower in their lapel buttonhole. If the flower faded soon, they thought their love wasn't reciprocated, but if it persisted, they thought it was.
Cornflowers symbolize optimism, wealth, and love. They were formerly thought to give crops and soil vitality. Hence, they symbolized fertility and plenty.
The Cornflower has promoted patriotism and national pride. In 19th-century Germany, the flower symbolized unification and military prowess. It became a symbol of patriotism and nationalism.
Since 1968, Estonia's national flower, the Cornflower, symbolizes its natural beauty and abundance. The flower is also connected with Greek centaur Chiron, a wise and skilled healer. Cornflowers are anti-inflammatory and therapeutic in traditional herbal therapy.
[The article/content is first published by Lotustryo.com website.
Lotustryo.com is a website about plants and flowers by Amelia Clark. Copyright Marked]
Cornflower spiritual meaning
Cornflowers have always symbolized spirituality. Cornflowers' blue tint is said to soothe the mind, body, and soul. Cornflowers symbolize nature and life cycles.
Cornflowers symbolize divinity. The blue blossom symbolizes spiritual enlightenment and wisdom. The Cornflower is thought to link us to the divine, helping us access our higher selves and comprehend the universe.
Cornflowers symbolize healing. For generations, herbalists have employed the flower for its medicinal powers. Cornflowers are claimed to treat physical, mental, and spiritual traumas, restoring equilibrium to the body and mind.
Cornflowers cleanse and protect. Several civilizations think the flower repels bad spirits and negative energies. Cornflowers cleanse the atmosphere by removing bad energy and restoring equilibrium.
Cornflowers symbolize passion and spirituality. In European folklore, bachelors wore a Cornflower in their lapel buttonhole to express their love and hope for a life companion. Wearing a cornflower is thought to bring luck and true love.
Cornflowers symbolize nature and heavenly power. Cornflowers excite us with their beauty and importance in many cultures, whether used for healing, protection, or romance.
Cornflower cultural significance
Cornflowers have shaped many cultures. The blue Cornflower has symbolized life, love, and wealth from ancient Egypt to Germany.
Cornflowers, like the blue lotus, flourished alongside grain crops in ancient Egypt and were connected with life and fertility. They were therapeutic and utilized in religious rites.
In European mythology, cornflowers symbolized love for young men looking for their one true love. They thought that if a cornflower in their lapel buttonhole faded soon, the object of their devotion did not love them. The flower's longevity indicated their love.
Due to their yearly rebirth with the crop, cornflowers symbolize historical customs, notably reanimation. They were thought to revitalize soil and crops.
After years as a weed, the Cornflower needed years to regain its good image. Nowadays, it symbolizes prosperity, pride, and luck.
Cornflowers are connected with Greek centaur Chiron, a wise and skilled healer. For generations, herbalists have employed the flower for its medicinal powers.
Germany's national emblem, the blue Cornflower, symbolizes togetherness and military prowess. Since the 19th century, it has symbolized nationalism and patriotism. Since 1968, Estonia's national flower is the Cornflower, symbolizing its beauty and plenty.
In conclusion, cornflowers have shaped many cultures throughout the globe. They symbolize life, love, wealth, and patriotism.
Cornflower in Art
Art has always shown cornflowers. Medieval illuminated texts and tapestries included it. Renaissance still lifes and portraits included flowers.
Cornflowers symbolized romance, purity, and beauty in the 19th century. Vincent van Gogh, Paul Gauguin, and Claude Monet painted, drew, and printed it.
The cornflower inspires conventional and digital artists today. Floral paintings, graphics, and designs feature its delicate elegance and brilliant blue hue.
[ Copright Notice: The content is first published in Lotustryo.com website, if you are seeing this article in other website then it has been copied fully. ]
Cornflower in Literature
The cornflower has long symbolized love, beauty, and purity in literature. Greek legend linked the flower to Chiron, the intelligent centaur who taught mankind about herbs. The cornflower healed Achilles' wound in Homer's Iliad.
Kenneth Grahame's The Wind in the Willows and Frances Hodgson Burnett's The Hidden Garden mention the cornflower in modern literature. The flower represents nature's beauty in both novels.
Cornflower in Film and Television
Many movies and TV programs have included the cornflower. Gone with the Wind's Scarlett O'Hara wears a cornflower blue outfit. The Hunger Games and The Chronicles of Narnia utilize the flower to symbolize optimism and regeneration.
Downton Abbey and Outlander use cornflowers. Flower symbolizes love and remembering in both presentations.
Cornflower in Music
Cornflowers have inspired many musical works. Franz Schubert's "Die Kornblumenstrauss" and Robert Schumann's "Widmung" mention the flower.
"Cornflower Blue" by Kate Wolf and "Cornflowers" by Nick Cave and the Bad Seeds mention the cornflower. Flower symbolizes love and yearning in both songs.
Conclusion
In conclusion, cornflowers are more than just pretty flowers – they hold deep meaning and symbolism that has been passed down through history. From love and romance to hope and happiness, these flowers have been associated with a range of values and beliefs. Whether you're looking to add some color to your garden or give a meaningful gift, the cornflower is a fantastic choice that is sure to impress. So take a moment to appreciate the beauty and symbolism of these delicate flowers, and let them inspire you to live a life filled with love, hope, and happiness.
Willow Tree Spiritual Meaning : What is The Symbol Represents?
Scilla Flower Meaning (Squill) And Symbolism – Know Everything