Apricot trees are a favorite among gardeners and orchardists due to their delicious fruits and beautiful blossoms. These trees require trimming to be healthy and productive. Pruning removes diseased and dead wood, increases ventilation, sunlight penetration, and new growth. In this article, we will provide you with a step-by-step guide on how to prune apricot trees in winter.
Why Prune Apricot Trees?
Pruning is an essential part of apricot tree maintenance for several reasons:
When dead, diseased, or damaged wood is removed, it helps prevent the spread of pests and diseases that, if uncontrolled, might affect healthy wood.
Managing the size and form of the tree: Pruning helps to control the height and spread of the tree, making it easier to manage and pick the fruit.
New growth is sparked by pruning, which also enhances the quantity of fruit the tree produces.
Pruning helps increase airflow and sunlight penetration, reducing the risk of fungus infections and promoting fruit development.
When is the best time to prune an apricot tree in winter?
The dormant season of an apricot tree, which usually lasts from late December to early March, is the best time to prune one in the winter. When the tree is not actively developing, pruning may be done without affecting its capacity to provide fruit in the future season. Because the tree is less vulnerable to illnesses while it is not actively developing, pruning at this period reduces the danger of disease spreading.
How to Prune Apricot Trees in Winter
Tools Required
Before you start pruning your apricot tree, you will need the following tools:
*As an Amazon Associate we earn from qualifying purchases.



Trimming branches with a diameter of up to an inch requires the use of pruning shears.
Loppers are tools used to cut branches up to two inches in diameter.
Use a hand saw to cut branches with a diameter bigger than 2 inches.
Disinfectant: to prevent the transmission of disease by sanitizing your cutting tools between usage.
Step-by-Step Pruning Guide
Follow these steps to prune your apricot tree in winters:
Get rid of any sick, damaged, or dead wood first: Remove any wood that is sick, diseased, or dead. Inspect the branches for any that are split, broken, or otherwise damaged, as well as those that are touching the ground or crossing over one another. Use pruning shears or loppers to remove these branches.
Thin out the heart of the tree: Branches that are expanding toward the center of the tree should then be pruned. These branches might block sunlight and ventilation, making the tree more susceptible to disease. Use pruning shears or loppers to remove these branches.
Cut back on obstructive limbs: Look for branches that are overlapping or contacting one another. These branches have the potential to hurt one another.
Remove water sprouts: Vertical, swiftly growing shoots known as "water sprouts" may appear on the trunk or branches of trees. It is essential to remove these branches because they could divert energy from fruit growth. Use pruning shears to cut them down to the branch they are growing from.
The form of the tree: You may start shaping the tree after you've removed every piece of ill, dead, or blocked wood. Focus on pruning any branches that are growing downward or outward. Making the heart of the tree open will allow air and light to enter the canopy.
Pruning Techniques
Avoid heading them; totally prune them to an upright branch.
After cutting just above the bud, leave a thin layer of wood (about 1/4 inch) above it.
Make the incision at a 45-degree angle to promote healing.
Make clean cuts to prevent tearing and infection.
Common Pruning Mistakes to Avoid in winters
Removing a lot of wood at once, which might stress the tree and reduce fruit production.
A tree may cease producing fruit if all fruit-bearing wood is removed.
leaving behind stumps that might wither and get infected.
Utilizing unclean tools and failing to sanitize them in between uses might spread disease.
Aftercare and Maintenance
When trimming your apricot tree in winter, make sure to thoroughly clean the space around it to reduce the probability of bug infestations. Make sure the tree gets adequate water if you live in a dry area. To keep the space moist and prevent weeds from growing, mulch the area next to the tree.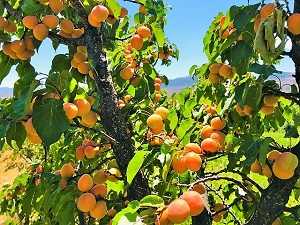 Frequently asked questions about How to Prune Apricot Trees in Winter
Can I prune an apricot tree too much?How much is too much?
Yes, an apricot tree may be pruned too much to the point that it stunts its development and is less able to bear fruit. A single pruning operation shouldn't typically include removing more than one-third of the tree's canopy. However, the precise amount of pruning needed will depend on the size, age, and growth patterns of the tree as well as its overall health.
What are the benefits of pruning an apricot tree in winter?
The health and vitality of an apricot tree are increased overall, new fruit-bearing wood is encouraged to develop, and the tree is shaped for maximum fruit output, all of which are advantages of winter pruning. In addition to promoting the development of healthy new wood, removing dead, damaged, or diseased wood may help stop the spread of diseases and pests. Additionally, trimming may assist the tree get more sunshine and air, which will enhance the fruit's quality and quantity.
Should I prune my apricot tree differently if it is a young tree versus an established tree?
Yes, various pruning techniques are needed for young and mature apricot trees. Young trees need to be trimmed to develop a sturdy, balanced structure and to stimulate the growth of new fruit-bearing wood. To increase airflow and sunshine exposure, it may be necessary to cut down on some of the primary leader branches and thin out lateral branches. To remove dead or damaged wood and encourage new growth, established trees may need more maintenance trimming.
How can I tell which branches to prune on my apricot tree?
It's crucial to remove any dead, diseased, or damaged wood from apricot trees when they are pruned, as well as any branches that are crossing or rubbing against one another. Additionally, you could wish to remove some of the lateral branches to increase airflow and sunlight exposure, which might encourage strong new growth. To enhance overall fruit quality and productivity, you could also wish to remove portion of the fruiting wood with care.
What should I do if there are branches that are too high up to reach?
If there are branches that are too high up to securely prune with a ladder or equipment, you may want to think about hiring a reputable tree service to help. They will be equipped with the right tools and knowledge to properly prune the tree and take out any dead or damaged wood.
Can I use the pruned branches for anything else, like making kindling or crafts?
Yes, you can definitely utilize the clipped branches for various things like crafting or building kindling. However, in order to prevent the transmission of diseases to neighboring trees, it's crucial to properly dispose of any unhealthy or pest-infested branches.
Is it necessary to seal the cut ends of the pruned branches?
No, an apricot tree doesn't need its trimmed branches' cut ends sealed. Research has revealed that although some individuals think that covering the cut ends with a wound dressing might help prevent disease or pests from entering the tree, this approach is often unneeded and can potentially slow the tree's natural healing process. The best course of action is to make precise, clean cuts using sharp instruments and let the tree repair itself.
How long does it take for an apricot tree to recover from pruning in winter?
The length of time it takes an apricot tree to recover after winter pruning will vary depending on the age and health of the tree, the extent of the trimming, and the growth environment, such as temperature and soil moisture. A tree will often require many months to a year or more to recover completely following pruning since it needs this time to create new growth and fruiting wood. An apricot tree may survive and produce high-quality fruit for many years, however, with the right care and upkeep.
Conclusion
I hope you find this article "How to Prune Apricot Trees in Winter" helpful. Pruning keeps apricot trees healthy and productive. Follow these tips to keep your apricot tree healthy and producing delicious fruit. Trim your apricot tree during dormancy using the appropriate tools to avoid common pruning mistakes.
Related Posts:
[The article/content is first published by Lotustryo.com website.
Lotustryo.com is a website about plants and flowers by Amelia Clark. Copyright Marked]
Pruning Apple Trees in Winter: When & How to Maintain Shape
When to Cut Back Hydrangeas for Winter : A Comprehensive Guide
When to Prune Apricot Trees in California – Growing Care Guide
How to Prune Young Apple Trees: A Comprehensive Guide
[ Copright Notice: The content is first published in Lotustryo.com website, if you are seeing this article in other website then it has been copied fully. ]