Welcome to the ultimate guide on how to plant, grow, and care for pansy flowers! here, I'll provide you with detailed directions in this complete guide to assist you successfully cultivate these lovely blossoms. You will learn useful tips here to make sure your pansies flourish and provide beautiful colors to your garden, whether you are a novice or an expert gardener. So let's dig in and learn how to take care of these lovely flowers!
About Pansies
The technical name for pansies is Viola tricolor, and they are tiny, delicate flowers that come in a variety of colors, such as purple, yellow, white, and orange. These cool-season flowers are noted for their durability and flexibility, making them a popular option for both garden beds and containers. Their distinctive overlapping petals give them a distinct "face," earning them the moniker "face pansies."
Growing Pansies in Containers
Sunlight Requirements
During the hot afternoon hours, pansies benefit from partial shade as well as full sunshine. Pick a spot where the pansies will grow in pots that will get direct morning sunlight and protection from strong afternoon sun. The right amount of light will promote healthy development and a profusion of flowers.
Soil Requirements
Use of good, well-drained soil that is high in organic matter is necessary to support prodigious pansy flowers. This kind of soil prevents root rot by holding onto moisture while letting extra water to drain away. Choose a premium potting mix that complies with these criteria before growing pansies in pots.
*As an Amazon Associate we earn from qualifying purchases.



Watering and Fertilization
Pansies require soil that is damp but not soggy. Every time the top inch of soil seems dry to the touch, water it to maintain the soil equally wet. Avoid overwatering since it might cause fungus illnesses and root issues.
Every two to three weeks, fertilize your pansies using a balanced, water-soluble fertilizer. This frequent feeding offers the nutrients required for strong growth and brilliant blooms. Overfertilizing may damage plants, so be sure to use the fertilizer according to the directions on the container.
Pansy Blooms
Regular removal of spent flowers is necessary to promote continuing blooming. Deadheading is a technique that encourages pansy plants to produce more flowers. Pansies focus their efforts on producing seeds when allowed to set seed, and they swiftly deteriorate. You may encourage a longer flowering time and a healthier plant by deadheading every few days.
Are Pansies Annual or Perennial Plants?
Pansies are short-lived perennials, but because of their sensitivity to summer heat and excess wetness, they are sometimes planted as annuals. Pansies often wilt and die in hotter climates throughout the summer. They are real perennials in milder areas where they may endure mild winters and blossom the following year.
Do Pansies Require Deadheading?
Yes, deadheading pansies on a regular basis is necessary to keep them healthy and encourage continual flowering. By removing fading flowers, you may stop plants from focusing their energy on making seeds. Maintaining your pansy plants' appearance and promoting an abundance of new flowers is as easy and satisfying a chore as deadheading.
Ideal Planting Time for Pansies
The best time to grow pansies depends on your climate since they are cool-season flowers. The majority of places grow pansies in the early spring or late autumn when it is colder. For pansies to take root and grow, these times provide the ideal environment. However, if you live somewhere with mild winters, you may be able to see pansy blossoms all winter long.
Utilizing Pansies in the Garden
Pansies may be utilized in a variety of ways to improve your garden because of their incredible adaptability. Here are some inventive ideas for adding pansies to your outdoor area:
Plant pansies in borders, beds, or beside walks in your garden to produce gorgeous flower displays.
Container gardening: Pansies grow well in pots, window boxes, and hanging baskets since they flourish in containers.
Edging: To clearly delineate garden borders and walks, use pansies as a vibrant edging plant.
Plant pansies with other cool-season flowers or vegetables to make eye-catching and practical arrangements.
You may release your imagination and utilize pansies to make your garden a colourful refuge by looking into these several applications.
Will Pansies Return Each Year?
Pansies have the ability to grow as annual perennials in areas with warm winters. Pansies are often cultivated as annuals in regions with hot summers or chilly winters. The particular environment and cultivar you choose will determine whether they survive. Choose pansy kinds that can withstand harsh temperatures if you want to enjoy them year-round.
Winter Hardiness Zones for Pansies
In general, pansies can withstand temperatures between 6 and 11 degrees Fahrenheit. However, depending on the cultivar, this may change. While certain pansy cultivars may suffer in subfreezing circumstances, others are more resistant of low temperatures and may tolerate frost. To find out which pansy cultivars are most appropriate for your particular hardiness zone, refer to the plant tags or trustworthy sources.
Do Pansies Self-Seed?
Unlike some other plants, pansies don't self-seed as often, although they do sometimes generate seeds that sprout nearby. However, since pansy cultivars are often hybrids, the offspring could not look like the parent plants. It is advised to buy fresh pansy plants or propagate them using vegetative techniques like cuttings or division in order to keep the ideal characteristics and colors.
Can Pansies be Cultivated Indoors?
Although pansies are often grown outside, you may cultivate them inside given the correct circumstances. In order to effectively produce pansies indoors, abide by the following rules:
Choose compact cultivars: Pick pansy cultivars with a compact growth habit that have been developed particularly for container gardening.
Pansies need at least six hours of direct sunshine every day, so provide enough light. Put them next to a window that faces south or add fluorescent grow lights to help.
Pansies appreciate chilly temperatures between 55°F and 65°F (13°C-18°C) and moderate humidity levels. Maintain temperature and humidity. Place them far from heat sources and away from dry areas.
Ensure that the containers have enough drainage in order to avoid waterlogging and root rot.
Regular fertilization: To provide vital nutrients, feed indoor pansies with a balanced, water-soluble fertilizer every two to three weeks.
You may appreciate the beauty of pansies inside as well with adequate care and attention to their particular demands.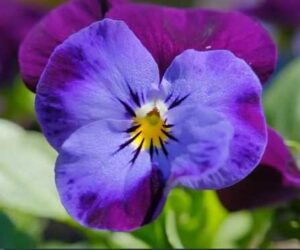 How to Care Pansies
When caring for pansies, it's important to water them correctly, fertilize them, and keep an eye out for pests. Here are some essential upkeep duties to do on your pansy plants to maintain them strong and healthy:
Watering: Consistently moisten the soil, but don't overwater. When you can touch the top inch of dirt, it's time to water. Be cautious during rainy seasons since too much moisture might cause underlying issues.
Feed your pansies with a balanced, water-soluble fertilizer every two to three weeks. For the proper dose and application technique, refer to the directions on the fertilizer box.
Pest control: Keep a watchful look out for aphids, slugs, and snails on your pansy plants. If you see an infestation, treat the damaged plants right away using the proper organic or chemical techniques.
Mulching: Use organic mulch, such as straw or chopped leaves, to cover the base of pansy plants in colder areas. Mulching aids in soil insulation and shields plants from chilly winter temperatures.
You can provide your pansies with the ideal growth conditions they need to thrive by applying these maintenance methods.
Insects and Diseases
Pansies are subject to specific pests and diseases, just like any other kind of plant. The following are some typical pests and ailments that might harm pansy plants:
Aphids: These tiny, soft-bodied insects may assemble on the undersides of leaves and siphon plant sap. To control aphids, use insecticidal soap or a powerful water spray.
Slugs and snails: These mollusks consume pansy leaves and leave behind big, crooked holes as a result. Handpicking, utilizing traps, or using natural slug and snail baits are all effective ways to control them.
White, powdery growths on the leaves are the symptoms of powdery mildew, a fungus. To treat powdery mildew, increase air circulation, abstain from overhead watering, and use fungicidal sprays.
Botrytis blight, sometimes known as gray mold, is a fungus that damages plant tissues by causing browning and rotting. Use fungicides as required and remove and destroy any infected plant components.
Check your pansy plants often for symptoms of pests or illnesses, and act quickly to stop their spread. For your pansies to remain healthy, early identification and action are essential.
Pansy Shopping Tips
The following advice will help you choose strong, healthy pansy plants when you go plant shopping:
Pick plants with established roots: Look for pansies with a strong root system that extends to the pot's edges. Avoid planting any plants if their roots are round the container's edges or bottom since this means they are root-bound.
Examine the leaves and stems for any obvious bugs or evidence of damage to check for illnesses or pests. Avoid plants that have apparent insect infestations, discolouration, or wilting symptoms.
Choose plants with bushy, compact growth: Look for pansy plants with these characteristics. Avoid stretching or leggy plants since they could not function as effectively.
Pick pansies with vivid, healthy-looking flowers in colors that you find appealing. Also, take into account the bloom stage. In order to enjoy a prolonged display of flowers, it's also a good idea to choose plants that have both open blooms and buds.
You're setting yourself up for success in your gardening attempts by being choosy and selecting top-notch pansy plants.
[The article/content is first published by Lotustryo.com website.
Lotustryo.com is a website about plants and flowers by Amelia Clark. Copyright Marked]
Key Factors for Successful Pansy Cultivation
Several essential elements are necessary for productive pansy growing. To guarantee strong growth and a profusion of blossoms, pay close attention to the following factors:
Give your pansies the correct amount of sunlight—in most areas, full morning sun and half afternoon shade—to encourage healthy development and abundant blooming.
Pansies like well-drained, organic matter-rich soil. To improve drainage and increase soil fertility, amend thick clay soils with compost or well-rotted organic matter.
Achieve regular soil moisture levels and refrain from either under- or overwatering. To avoid root issues, keep the soil wet but not soggy.
Regular fertilization: Feed your pansies with a balanced, water-soluble fertilizer every two to three weeks. This frequent feeding offers the nutrients required for strong growth and brilliant blooms.
Controlling pests and illnesses diligently means keeping an eye out for them on your pansies. To safeguard the health of your plants, take the necessary precautions to manage and avoid pests.
Deadheading: Remove withered flowers on a regular basis to promote continued flowering and avoid seed development. By doing this, the plant concentrates its energy on making new flowers rather than setting seed.
You'll provide your children with the best conditions for success by comprehending and putting these things into practice.
FAQ
Can you grow pansies in shade?
Pansies may grow in the shade, but they like to have at least 4-6 hours of direct sunshine per day for optimum growth and blooming. While plants can withstand a certain amount of shade, excessive shade may lead to weak and lanky growth, fewer flowers, and poor plant health in general. To encourage healthy development and colorful flowers when growing pansies in a shaded environment, make sure they still get a few hours of sunshine each day.
How many hours of sun do pansies need?
Pansies flourish in full sunshine, and they function at their peak when they get 4-6 hours of direct sunlight daily. The plants benefit from this exposure to sunshine by making more flowers and keeping up their general health. Pansies can withstand some shade, however, particularly in hotter climates where they may appreciate a break from the blazing afternoon light.
Do pansies grow better in pots or in the ground?
Both in containers and in the ground, pansies may grow effectively. The decision between the two is based on preferences and particular gardening situations. Pansies have the benefit of mobility when planted in containers; you can move them around to make new arrangements or shield them from bad weather. Pansies may grow deeper roots in the earth and have more access to the soil's nutrients and moisture. Pansies may ultimately flourish in both garden beds and containers as long as the necessary growth conditions and care needs are satisfied.
How long will potted pansies last?
When it comes to care, the location, and the particular cultivar, potted pansies may live a variety of lives. Pansies in pots often bloom continuously for 7 to 8 months during their peak season. But since pansies are normally produced as cool-season annuals, they may live less time in places with hot summers or cold winters. Potted pansies may have a longer life and remain healthy and flowering for as long as possible with regular deadheading, appropriate watering, fertilizer, and insect control.
What temperature is too hot for pansies?
The ideal temperature for pansies, which are cool-season flowers, is mild. Despite the fact that they can withstand a little heat, extended exposure to high temperatures may stress plants and have a negative impact on their development and flowering. As a general rule, pansies may find it too hot if the temperature is regularly over 80°F (27°C). Pansies may exhibit symptoms of withering, limited flowering, and poor general health under such circumstances. Provide some shade for pansies during the day's warmest hours and make sure they get enough water to keep the soil wet to prevent them from severe heat. Growing pansies effectively in areas with exceptionally high temperatures may be difficult since they could find it difficult to live and flourish.
[ Copright Notice: The content is first published in Lotustryo.com website, if you are seeing this article in other website then it has been copied fully. ]
Conclusion
Now that you are knowledgeable about planting, nurturing, and caring for pansy flowers, hurry. You may successfully cultivate these lovely blossoms by according to the instructions in this thorough guide. Don't forget to choose a spot that is good for planting, to provide enough sunshine and well-drained soil, and to keep appropriate watering, fertilizing, and pest management. Your pansy plants will repay you with a spectacular display of beautiful blossoms if you follow these recommendations and give them your love and care. Pansies provide beauty and charm to any garden or container, and their joyous presence will make your day!
Related Posts:
How to Make Pansies Bloom Again : 12 Easy Steps (Guide)
Will My Pansies Come Back Each Year – Annuals or Perennials?